How to Grow a Hardy Geranium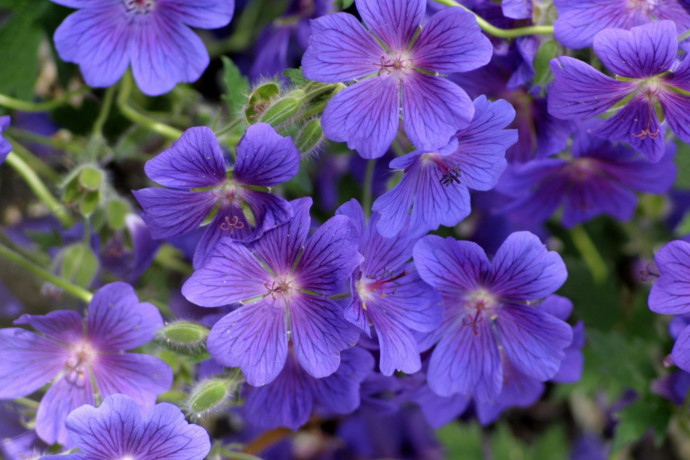 There is a wide variety in the genus Geranium, but most of the commonly grown species are low-growing, dense, carpet-like plants with flower stalks that poke and weave through neighboring plants. The flowers float on top of the plant in shades of white, pink, magenta, purple and blue. The flowers are small - about an inch - and cupped, which attracts many butterflies and bees. Hardy geraniums can be used in a variety of ways in the landscape, depending on the variety. Some varieties make good bedding plants, others are ideal for woodland gardens and semi-shaded locations, while still others make excellent ground covers or rock garden plants. A few hardy geraniums bloom only once, usually early in the season, but most begin blooming in mid-summer and bloom again sporadically throughout the growing season. Newer varieties, such as 'Rozanne', flower throughout the summer.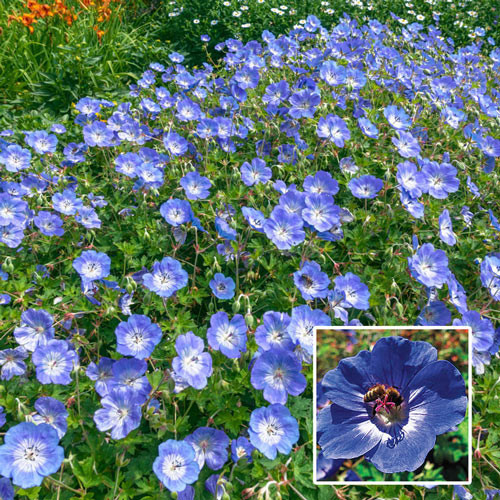 The flowering perennials known as hardy geraniums include many cultivars of different species and hybrids within the geranium genus. As a group, they are also known as true geraniums, perennial geraniums, or wild geraniums. Other common names include cranesbill geranium (Geranium macrorrhizum), bloody geranium (Geranium sanguineum), and wild geranium (Geranium maculatum). Many of the garden varieties are derived from hybrids created by crossing species.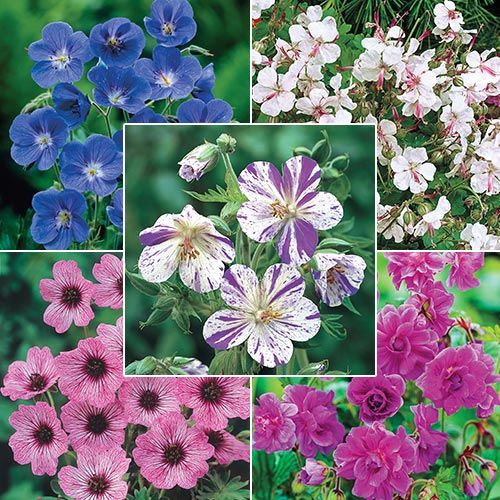 Hardy perennial geraniums bloom and pollinate throughout the spring. They bloom over and over again and love shady and woodsy locations, making them perfect for supporting bees of all kinds. The hardy geranium is not the delicate Pelargonium Pelargonium we remember from our grandmothers' gardens. Beginners often confuse these perennial varieties with another type plant that carries the common name of geranium. Those familiar annual "geraniums" common in deck planters and gravestone urns are actually Pelargonium x hortorum hybrids; they may also be called zonal geraniums. There are many types of hardy geraniums: some are low-growing and perfect as ground covers for tight spaces; larger varieties can easily grow up to three feet tall and wide. Most geraniums prefer a sunny to partial shade location, but some can do well in shade. Choose a planting location based on the geranium variety you choose and its preferences for sun exposure.
Soil
Geraniums are not particular about soil pH, but a neutral to slightly acidic soil is ideal. Most prefer medium-moisture, well-drained soil, though some species prefer relatively dry soil.
Geraniums are a low maintenance plant, so water them only when the soil becomes dry. If they are in full sun, water the plant more frequently. Hardy geraniums can become susceptible to fungal diseases if watered overhead. Although geraniums don't like to stand in water, they like even medium moisture and a humus-rich soil with lots of natural ingredients: Rotted manure, compost and worm droppings are perfect soil conditioners. This makes them not a likely candidate for hot or dry areas in the garden. Plant them directly in nutrient- rich soil or containers in the spring after the last frost, or plant them from seed in the fall or spring when the geranium seeds have been cold treated.
Light
Hardy geraniums accept a wide range of exposure conditions. For the best flowering and most vigorous geranium plants, site them in full sun to part shade. If geraniums are grown in hot, full sun, provide regular water. Some varieties of geraniums can tolerate full shade, but they likely won't blossom as fully as those that have plenty of sun.
Hardy geraniums make a surprising sound when the seeds explode from the seed pods in the latent flower heads. The plants throw the seeds quite a bit after flowering is over in early summer.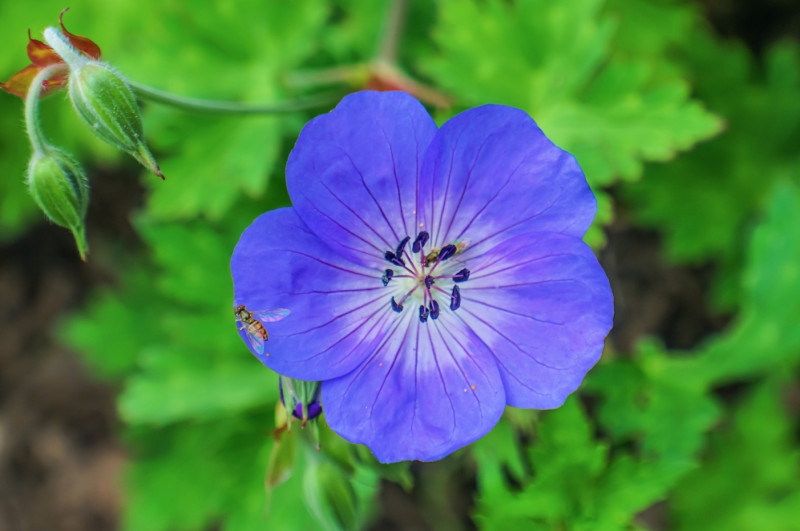 Geranium can be divided by digging up the rhizomes and cutting them off between the emerging stems. A new collection of basal leaves and flowering stems will grow from the thick, branched, horizontal rhizomes. Water them regularly when you first plant them. Once established, geraniums will survive dry conditions as long as the soil is rich.
Cut back flower stems after the first bloom to tidy up the plant and encourage it to bloom again. Cut back more if the plant eventually grows out of frame. Hardy geraniums are relatively less susceptible to pests or disease; however, if they are watered heavily from above in shadier conditions, they can develop powdery mildew and fungal problems. If this happens to your geraniums, cut off the infected leaves, but don't compost them, just throw the infected leaves away.