A Colorful Cut-Flower Garden: Guide & Advice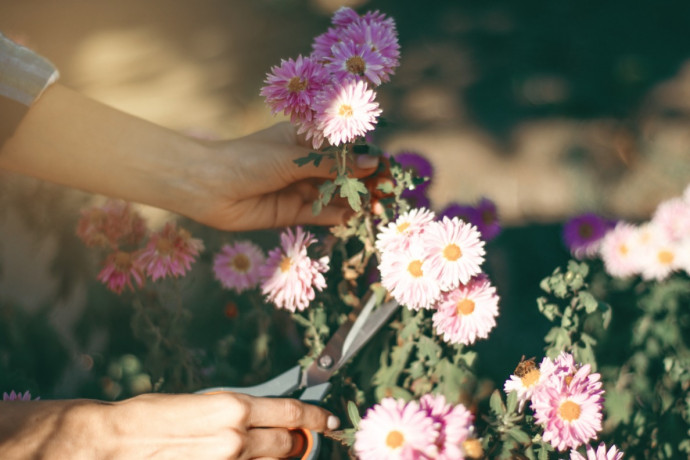 Looking for a beautiful bouquet of flowers without spending a lot of money on fresh cut flowers? A cutting garden is a budget-friendly option because it's in an easily accessible spot at home where you can snip to your heart's content. Think of the whole garden as an atmospheric flower garden that looks just as good outside as it does inside. It's such a joy to see flowers blooming in the garden that it's often hard to cut them down to bring them indoors. That's the beauty of a designated cutting garden. Find a secluded, sunny spot in your garden that guests won't notice and fill it with plants meant for cutting. Then treat your cutting garden as your own private source of flowers for bouquets that beautify your indoor spaces. Think you're out of room for a new garden, even if it's tucked away? How about setting aside a few rows in your vegetable garden for flowers. It's a win-win situation. You get flowers to cut and the flowers attract more pollinators to your vegetables. Let's get started.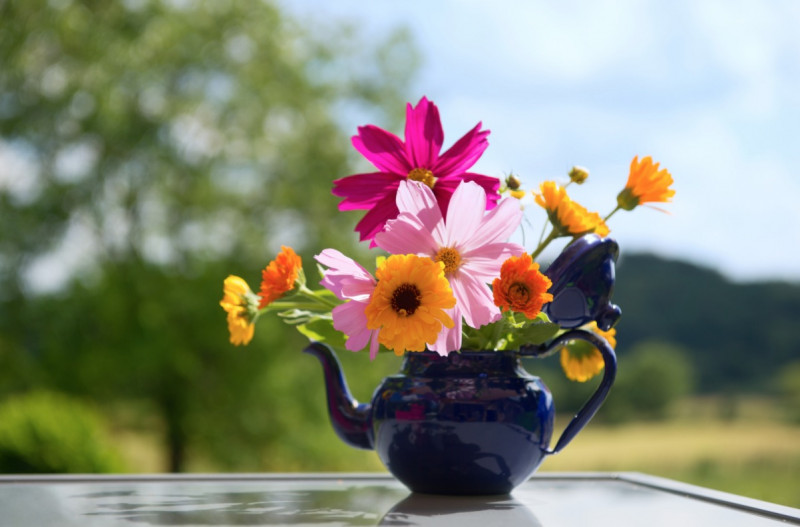 Create a cutting flower garden in a secluded corner so there are fresh flowers for the house without raiding the flower beds. You don't need to put much emphasis on design or esthetics - just plant neat rows of annuals that bloom profusely in the colors and shapes you want for decoration.
In an out-of-the-way corner, plant a cutting garden so that there will be fresh flowers for the house without the necessity of robbing the display flower beds. No need to pay lots of attention to design or aesthetics — simply grow neat rows of those annuals that bloom abundantly in colors and forms you want for decoration.
If your color scheme calls for pinks and blues, raise larkspurs, Canterbury bells, asters, bachelor buttons, felicia daisies, and stock. Add some dusty miller for its gray foliage; it's most compatible with pink tones.
For vivid reds, yellows, and oranges, grow marigolds, plumed celosia, red-hot poker, geraniums, gloriosa daisies, and gazanias. The taller varieties are best. Coleus make a fine foliage filler with these flowers.
Poppies, both the Shirley and the Iceland poppies, are great additions to mixed bouquets. They are long lasting if you sear the stem ends when you cut them.
For airy filler, grow some annual baby's breath or dill. And plant a few rows of strawflowers, statice, and bells of Ireland to cut and use fresh or dried in your home during the winter.
If you only have space for a tiny cutting bed, try tall zinnias and snapdragons. Their white, yellow, orange, red, and pink colors blend well and their forms contrast nicely.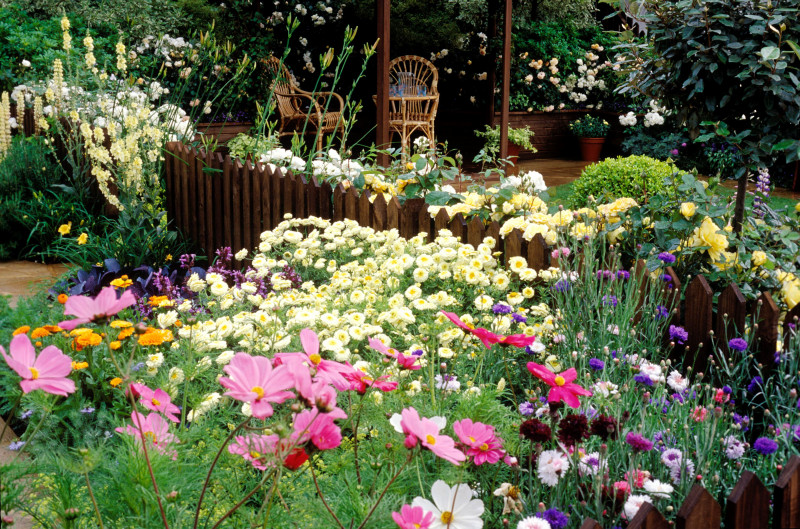 Cutting tips
1. Cut off the flower stalks. A freshly cut stem will absorb water unhindered. Use a sharp knife or scissors and cut either diagonally or straight.
2. Follow special procedures for special cases. Some flower stems secrete a milky liquid that clogs their water-bearing tubes. To prevent this, place about ½ inch of the stem in boiling water for 30 seconds or char the end of the stem in a flame.
Remove excess foliage and any leaves that will be submerged. Excess foliage increases water loss; submerged foliage rots and accelerates fading.
4. Place stems in 110°F warm water. Warm water soaks into the stem more quickly and easily than cold water.
5. Use a commercial flower food in the water. These foods combine sugar, acidulants, and a mild fungicide to extend the life of cut flowers.
6. Wrap a piece of paper or plastic around the flowers after placing them in warm water. This will prevent rapid air movement over the flowers and reduce water loss. After the flowers have become crisp (about two hours), you can arrange them and they will continue to absorb water. Sometimes wilted flowers can be restored by repeating this treatment.
7. Wash vases with soap and water after each use to remove bacteria. When bacteria multiply, they can often clog the water-carrying tubes of the flower stems. Avoid excessive heat. Do not place flowers in direct sunlight, over a radiator, or in a draft.
9. Double the life of your flowers by placing them in a cold room or refrigerator at night or when you are not at home.
10. Don't mix flowers with fruits or vegetables. Many fresh fruits and vegetables produce enough ethylene gas to shorten the life of flowers.
Sipping-Straw Stilts
If the stems of your cut flowers are too short for a tall vase, put the stems in plastic drinking straws and then cut them to the desired length.
Transporting cut flowers
Transport cut flowers such as irises in containers made from beverage cans. Punch six or seven holes in the lid with a can punch, partially fill with water, and tuck the stems inside. The can will hold the flowers upright