Tips to Spruce Up Your Patio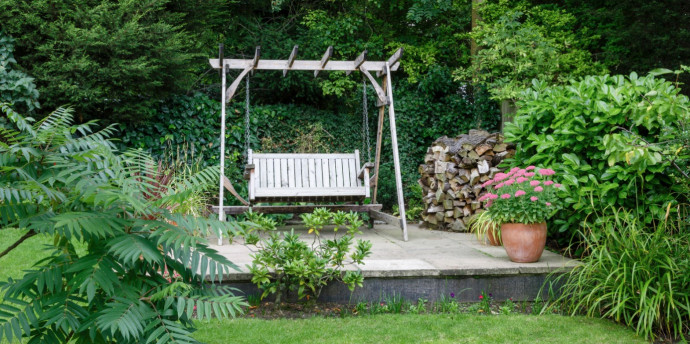 One of the best ways to relax in the garden is to sit in the shade, surrounded by aromatic plants. So, this season, let's turn our attention to the patio. Here I'm sharing with you my top tips. In most properties, the terrace or patio is the link between the house and garden. Any paved or decked area can have a lovely room-like feel provided you pay a little attention to the detail. Decluttering, tidying, and cleaning are just as important here as indoors. The key to a speedy patio makeover is to cast a critical eye over the whole space and target the most urgent jobs. Dead plants, fading flowers, and limp leaves draw the eye for all the wrong reasons, so deal with these eyesores promptly and curb unruly growth. With this simple maintenance tips create a stunning patio that suits you, and one you can enjoy for many years to come.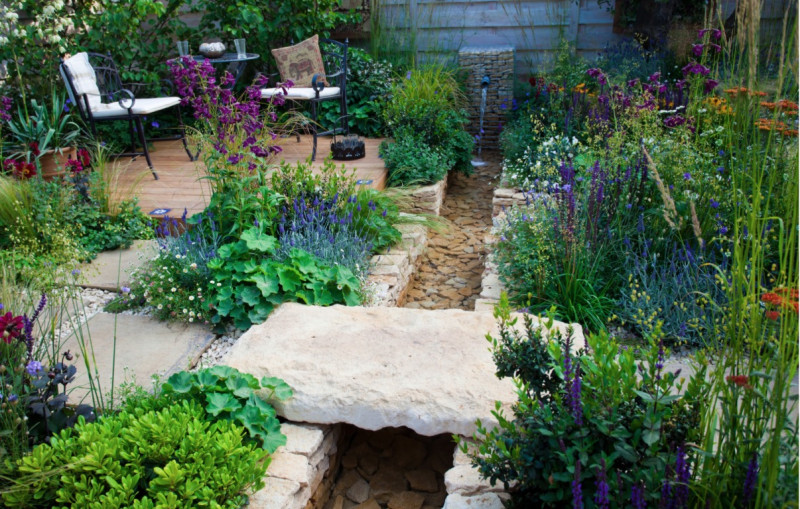 1. Keep in shape
Lightly trim potted topiary, removing clippings from the plant and soil to reduce disease problems. Remove multiple spent blooms and smarten alpines, shrubby herbs, and tender perennials using hand shears. Cut off over-long trailing shoots to keep arrangements in balance.
2. Faded glory
Remove unattractive brown blooms and yellow leaves. Use secateurs or flower scissors to dead-head larger faded flowers, and pull out or trim the dead centers of flower clusters on plants like pot geraniums. Remove the flower stalks of long-stemmed faded blooms.
3. Climber control
Tie new shoots of climbers and wall shrubs onto their wire or trellis supports. Prune off any less flexible stems that are growing outwards or that hang too low beneath pergola cross-beams and arches.
4. Clean sweep
Do a whirlwind sweep of all paved and decked surfaces. A soft-bristled indoor broom is often easier than a stiff yard broom. Remove debris from gravel or slate chippings with a plastic rake or leaf blower.
5. Pot revival
Move planters around to maximize displays (groups of three work well) and replace individual dead or fading plants with fresh ones. Give pots a good soak using a hose with a lance attachment for ease. Follow up with ready-mixed liquid fertilizer.
6. Weed them out
Hand-pull or use an old knife to scrape out any weeds that are growing in cracks between paving stones or through gravelled surfaces. Alternatively, spot-treat with a ready-mixed glyphosate weedkiller spray. Bordering the patio, I have a herbaceous border populated with old roses, hydrangeas and weeds. The roses are past their prime, so I will take cuttings this year and slowly replace everything with things in pots. I will cover the ground with a base of pea shingle to keep weed growth down. This way, assuming I find the required help in the early stages, I can have an herbaceous border that is much less effort, but just enough to make a good garden workout.
7. The seat
Every patio needs a good seat. Position it in the shade of the buddleja, find an object o rest your feet on and breathe in the scent of the plants for a relaxing afternoon. With the right mix of plants, you can experience a range of aromas from late morning, once the plants have warmed up. First, you'll smell the buddleja, then violet and lobelia in the afternoon. Later, the petunias add their scent to the mix.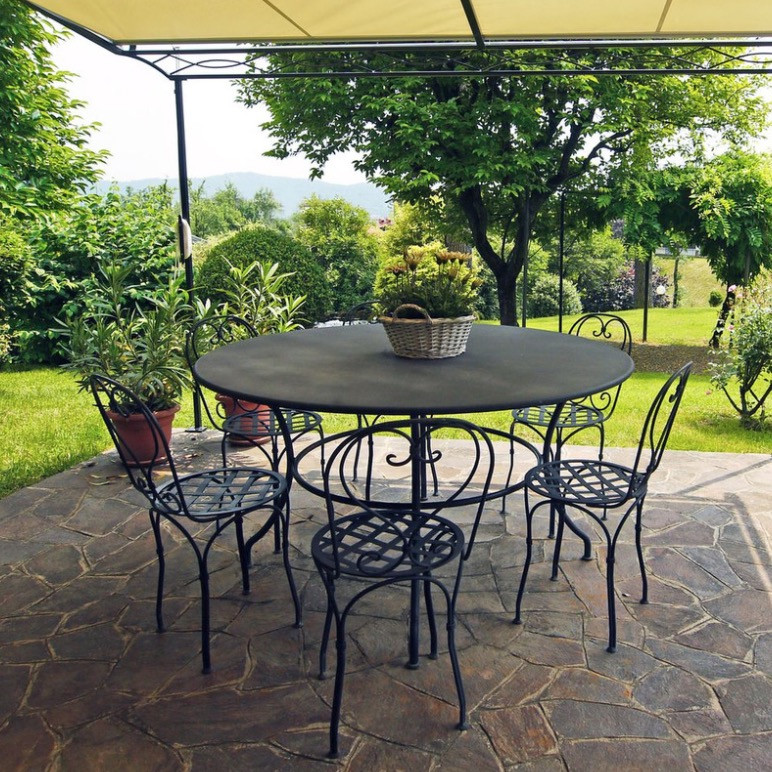 Instant impact
1. Bring out cushions and throws to add a feeling of luxury as well as color.
2. Dress the tops of your pots with slate chippings, pebbles, or gravel to create a fresh new look. Scatter the same material artfully around the base of a group of pots.
3. Clean furniture. Spot-clean marks and stuck-on debris on tables and chairs with some warm soapy water and a soft-bristled brush.
4. Scoop up litter or debris and remove organic matter to the compost bin. Use a small hand brush for reaching awkward corners.
5. Completely replant any tired-looking patio containers with new plant arrangements placed in removable plastic pot "liners". This will make it easier in the future to swap faded planters with inserts nurtured in the wings.
6. Scrub away algae and moss from your paving or decking using a proprietary cleaning fluid.
7. Fill the gaps. Use small pots of trailing lobelia and maybe one or two nasturtiums to fill any gaps between the blocks. To stop the wind pushing them over, buy some long cable tidies, then thread these through the holes in the pots and secure each one to a block.
Do you have a patio? Tell me in comments!
Happy gardening!