Osteospermum: Planting Guide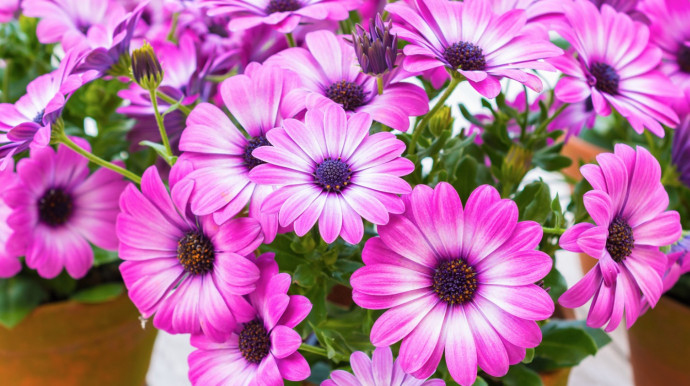 Add tons of color to your spring garden with osteospermum - magnificent flowers that are just as remarkable. Occasionally called cape daisy, osteospermum develops quantities of daisy-like flowers in a wide variety of colors including pink, purple, and white. Both single and double-flowered varieties of this sun-loving annual are also available. Osteospermum loves cool weather and will bloom its head off until hot summer weather brings the show to an end.
If ever there was a year when we need our spirits lifted, this is it. And one plant that always makes me feel better is the osteospermum, or African daisy. Perhaps it has something to do with the fact that, like those of most daisy plants, the flowers open at their widest when the sun is shining!
These irrepressibly cheerful blooms come in a range of colors that brighten borders, beds and patio pots. They're pretty good at providing weed-suppressing ground cover, too.
Closer investigation reveals that, despite those simple flowers, the osteospermum genus is actually a little complicated. It was once known as dimorphotheca, a name that's now used only in reference to some of the annual bedding forms.
Today, 'osteospermum' refers to the perennial and sub-shrub (woody perennials, similar to lavender) types. To confuse things even further, most people believe osteospermums to be half-hardy annuals, when mostly they are tender perennials.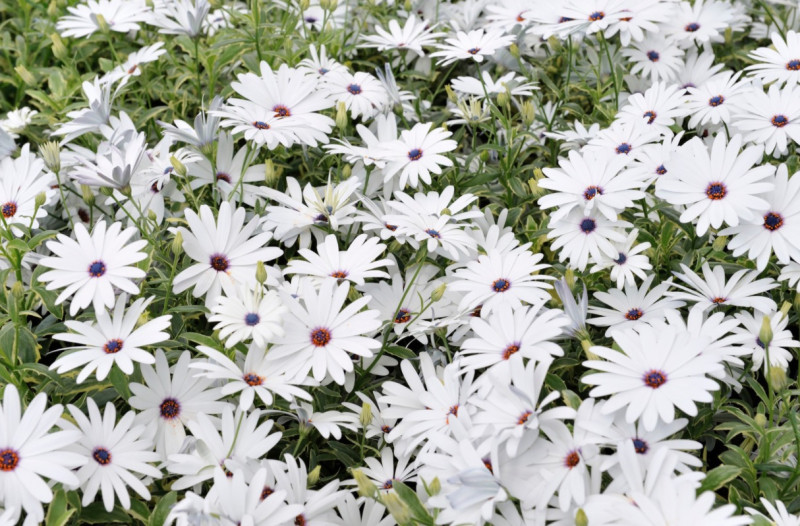 Long flowering season
The leaves are generally long, shiny, dark green and loosely toothed. But it's those blooms that we really want; unashamedly showy, on established plants they keep coming from late spring until the first frosts. Following many years of intensive breeding, these days they come in shades of white, cream, yellow, pink, mauve and purple. And in many cultivars, the undersides of the petals are a different color to the tops. Some osteospermums, such as 'Pink Whirls' and 'Whirlygig', feature 'spooned' petals. Likewise, there are species and cultivars that show levels of resistance to frost. It's worth trying them throughout winter, but my advice is to take cuttings beforehand: it's good to have insurance against a harsh one.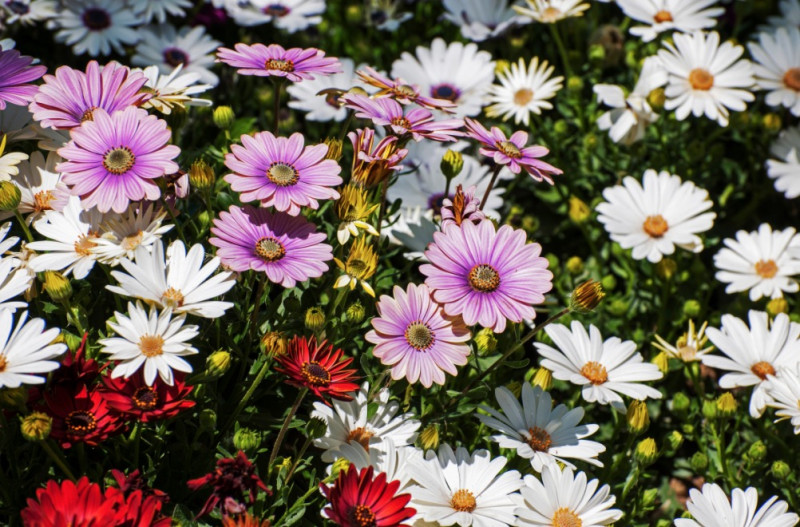 5 Cape Daisies to Plant
1. Dimorphotheca pluvialis 'Tetra Polar Star'
Bushy and free-flowering, with large blooms comprising brilliant white petals and centers of iridescent purple and deep blue. Perfect for a container, but equally suited to a path or rockery edge in a sunny spot.
2. Serenity Rose Magic
This superb performer offers a plentiful supply of large flowers that change color as they age, morphing from rose pink to a soft apricot, creating a beautiful, marbled effect all over the plant. Ideal for pots.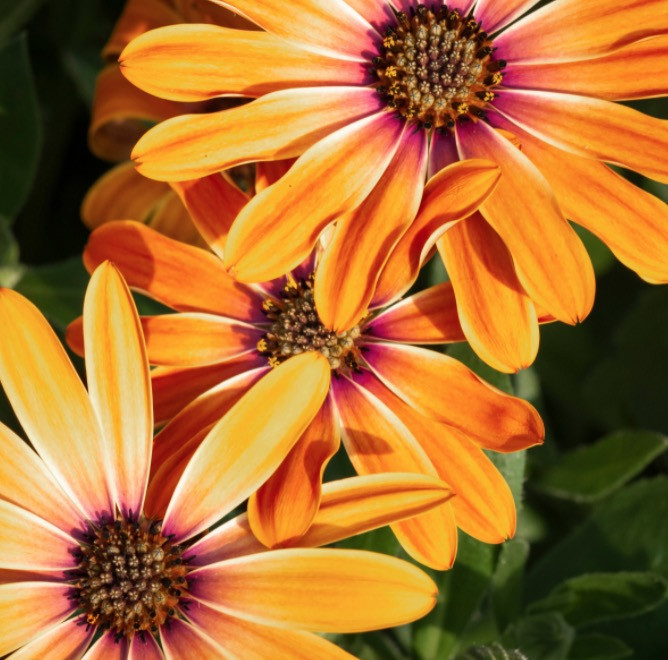 3. Purple Sun
Vibrant flowers smother this award winner all summer long, their yellow-tipped petals becoming more mauve the closer they get to the centre. Best for a contemporary container in a prairie- or exotic-style garden.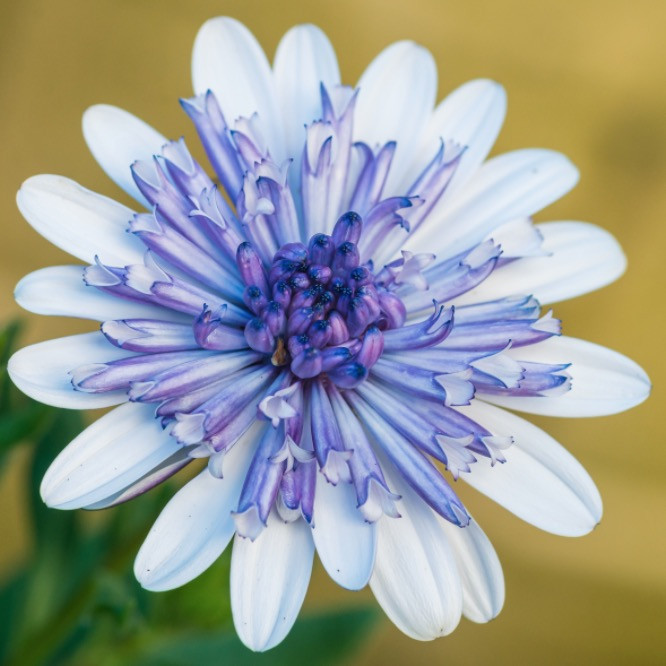 4. 'Erato Double Ice Blue'
The bluest osteospermum so far! The outer petals of this new variety are an ice-blue/white, which contrasts beautifully with the blue-edged double center. Looks great in a white or blue glazed container.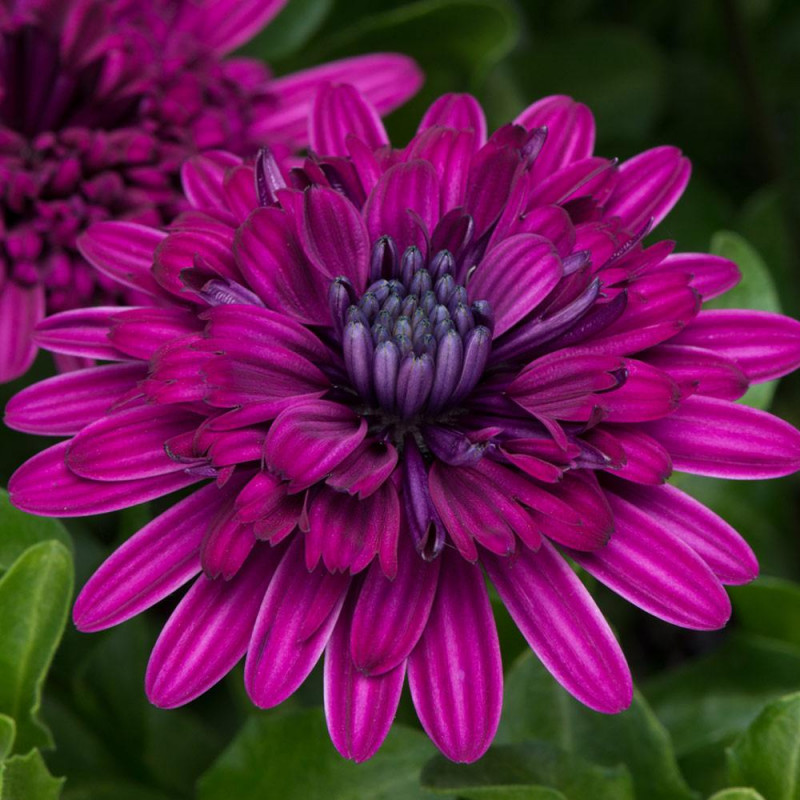 5. Double Purple 3D
Each purple daisy is enhanced by a small, central ruffle of fluted petals – giving the flowers a kind of '3D' effect. The amethyst blooms will stay open even on cloudy days, as well as in the evenings.
Planting companions
Osteospermums can stop flowering in extreme heat conditions; to avoid a dull area, grow them with coreopsis, ageratum or petunias, which all work well. To get the most from palest blue 'Erato Double Ice' team it with darker blue flowers, such as veronica, salvia or liatris.
Any osteospermum will look good growing with a white allium (such as 'White Giant) in late spring, or a white agapanthus (such as 'Albiflora') in mid to summer.
Planting and Care
The ideal site for all osteospermums is warm, sunny and sheltered. For best results, use them in a similar way to pelargoniums (summer bedding geraniums).
Plant outside in mid-late spring after all danger of frost is past.
How to plant: For beds and borders, loosen soil in the planting area 6 to 12 inches deep. Work in compost or other organic matter. Remove the plant from the container and gently tease out roots or slice the root ball in several places if potbound. Dig a hole slightly larger than the root ball. Place the plant in the hole, so the top of the root ball is level with the surrounding soil surface. Fill in the hole, tamp down soil around the base and water well.
Space 12 inches apart and allow for adequate air circulation.
If planting direct in the garden, soil should always be well-drained. Osteospermum plants dislike cold, wet soils; if necessary, improve heavy soil prior to planting, by incorporating plenty of coarse grit.
When growing in containers, do not to let the soil dry out completely between waterings. While these plants are generally considered drought-tolerant, dryness at the roots will lead to loss of flower buds, and watering heavily after drying out can cause rotting of the roots.